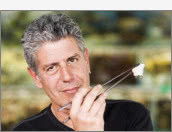 Episodes by Region



AFRICA
no reservations locations
ASIA
no reservations locations
CARIBBEAN
no reservations locations
EUROPE
no reservations locations
MIDDLE EAST
no reservations locations
NORTH AMERICA
no reservations locations
OCEANIA
no reservations locations
SOUTH AMERICA
no reservations locations



Follow Anthony Bourdain's travels around the world - experience the journey. [ season 6 ... episode 15 ]


No Reservations Episode: U.S. HEARTLAND
| | |
| --- | --- |
| | In this episode we're treated to a road trip to middle America. There is a list of cities you'll encounter with Tony in this one including Milwaukee, Livonia, Ohio, Michigan, Minneapolis, Denver and more. We're exposed to some high-end foods and off the all dining solutions. Let's face it, most people assume there isn't much culinary mastery here, let's find out. |
Hotels & Accommodations:

Four Seasons Hotel Denver
1111 14th Street, Denver, CO 80202

Fabulous hotel - amazing service and foods.




Recommended Activities & Events:

Spice House
1031 North Old World 3 St., Milwaukee, WI 53203

Largest collection of international spices.
Browse our list of Restaurants and other Places to Eat & Drink
Kihachi Japanese Restaurant
2667 Federated Blvd., Columbus, OH 43235
Great traditional Sushi bar.


Mizuna
225 East 7th Ave., Denver, CO 80203
Award winning, first class dining.


Bacchus-Bartolotta Restaurant
925 East Wells St., Milwaukee, WI 53202-3952
All of the dishes shine.


Piccolo
4302 Bryant Ave., South Minneapolis, MN 55409-1709
Small plates with amazing foods, try it.


Perlas Seafood and Oyster Bar
1400 S. Congress Ave., Austin, Texas 78704
It's difficult to find better oysters.


Strauss Veal
9775 South 60th St., Franklin, WI 53132-8644
Take advantage of the free-range veal.


Gourdoughs
1219 South Lamar Blvd., Austin, TX 78704
Made to order specialty donuts!.


Sollys Grille
4629 North Port Washington Rd., Milwaukee, WI 53212-1084
This is the official home of the butter burger.


East Side Kings
4302 Bryant Ave., South Minneapolis, MN 55409-1709
We highly recommend this Japanese fusion.


Biker Jims Gourmet Hot Dogs
16th St. and Arapahoe St., Denver, CO 80202
Ingredients include boar, reindeer and duck.