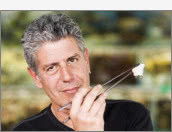 Episodes by Region



AFRICA
no reservations locations
ASIA
no reservations locations
CARIBBEAN
no reservations locations
EUROPE
no reservations locations
MIDDLE EAST
no reservations locations
NORTH AMERICA
no reservations locations
OCEANIA
no reservations locations
SOUTH AMERICA
no reservations locations



Follow Anthony Bourdain's travels around the world - experience the journey. [ season 5 ... episode 20 ]


No Reservations Episode: SARDINIA
| | |
| --- | --- |
| | This episode to end the successful fifth season hit close to home as it involves Tony's wife Ottavia. They travel to her homeland and visit with family, locals and others to get a true sense of what it means to be a Sardinian. The Italian cuisine is very much alive and simple items such as olives, wine, meat, cheese and more are in places of common dishes. |
Hotels & Accommodations:

Zia Forica
Corso Margherita di Savoia, 39 - 07100 Sassari, SS, Italy

Great place to stay and eat well.




Recommended Activities & Events:

Fogarizzu Knives
6 Via Crispi, 07016 Pattada, SS, Italy

Experience the art of patadese knife making.
Browse our list of Restaurants and other Places to Eat & Drink
Su Gologone
08025 Oliena, Nuoro, Italy
Some local cheeses and cured meats.


Agriturismo Roccas
Loc. Sedda e Ortai Monte Ortobene, (8100) Nuoro, Italy
Try the traditional spit-roasted meats.


Agriturismo Predas Rujas
Loc. Pedras Rujas, (8020) Torpe -- Posada, Nuoro, Italy
Excellent wild boar meat with pastas.


Il Rifugio
Via a Mereu 28, 36, Nuoro, Sardinia, Italy
Relaxed local atmosphere, great dishes.