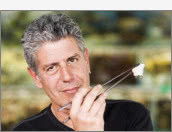 Episodes by Region



AFRICA
no reservations locations
ASIA
no reservations locations
CARIBBEAN
no reservations locations
EUROPE
no reservations locations
MIDDLE EAST
no reservations locations
NORTH AMERICA
no reservations locations
OCEANIA
no reservations locations
SOUTH AMERICA
no reservations locations



Follow Anthony Bourdain's travels around the world - experience the journey. [ season 8 ... episode 2 ]


No Reservations Episode: KANSAS CITY
| | |
| --- | --- |
| | Well there really isn't any if's or but's about it.. this is the official barbecue capital in the USA. Best of all in this episode, Zamir joins Tony on this episode for all the laughs and giggles we're used to. They meet up with rock bands, go to tail-gate parties and get off the track with a stop at Leila's Hair Museum! The food on this episode is finger licking good! |
Hotels & Accommodations:

Marriott Downtown
200 West 12th Street, Kansas City, MO 64105

Always a relaxing and enjoyable stay.




Recommended Activities & Events:

Green Dirt Farm
20363 Mount Bethel Rd, Weston, MO

Get a tour of this farm and grab a meal.
Browse our list of Restaurants and other Places to Eat & Drink
BB's Lawnside Bar
1205 East 85th St, Kansas City, MO 64131
With your beer, order some pork ribs.


Stroud's Restaurant & Bar
5410 NE Oakridge Rd, Kansas City, MO
The pan-fried chicken put them on the map.


The Cigar Box & Bistro
1519 Grand Boulevard, Kansas City, MO 64108
This is the place to be my friends!


Fiorella's Jack Stack BBQ
13441 Holmes Rd, Kansas City, MO
Some argue this is the best BBQ in the US.


Woodyard BBQ
3001 Merriam Lane, Kansas City, KS
Great BBQ feasts here, don't miss out.


Town Topic Hamburgers
2021 Broadway St, Kansas City, MO
Delicious burgers at this 24HR diner.


Oklahoma Joe's
3002 W 47th Ave, Kansas City, KS
Again, barbecue that is finger licking good.


The Savoy Grill
219 W 9th St, Kansas City, MO
Steak, lobster and potato diner are A+


LC's BBQ
5800 Blue Parkway, Kansas City, MO
Burnt ends made this location famous.


Rosedale BBQ
600 Southwest Blvd, Kansas City, KS
A pork sandwich with their famous sauce!