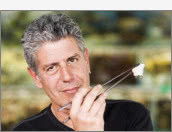 Episodes by Region



AFRICA
no reservations locations
ASIA
no reservations locations
CARIBBEAN
no reservations locations
EUROPE
no reservations locations
MIDDLE EAST
no reservations locations
NORTH AMERICA
no reservations locations
OCEANIA
no reservations locations
SOUTH AMERICA
no reservations locations



Follow Anthony Bourdain's travels around the world - experience the journey. [ season 2/7 ... episode 7/8 ]


No Reservations Episode: JAPAN
| | |
| --- | --- |
| | With this visit to Japan, Tony stops by Hokkaido and Sapporo! He takes full advantage of authentic "fireside-cooking" referred to as Robatayaki. He is also treated to some local ramen, Uni-ikura Don and Waikanae Crab. Meeting with some village people that have been around for centuries, he is treated to some old traditions. One of many trips to Japan on No Reservations. |
Hotels & Accommodations:

JR Tower Hotel Nikko Sapporo
2-5 Kita 5 Jo Nishi, Chuo-ku, Sapporo, Hokkaido 060-0005, Japan

A true gem in this amazing city.




Recommended Activities & Events:

Takinoya Ryokan / Tamanoyu Robata-yaki
31 Noboribetsu Onsen Town, Noboribetsu-City, Hokkaido, Japan

Great natural hot-spring at the wonderful inn.
Browse our list of Restaurants and other Places to Eat & Drink
Aji no Karyu
South 5-jo West 3-chome, Chuo-ku, Sapporo, Japan
Best local spot to enjoy miso ramen.


Wakakoma restaurant
North 11, West 21, Chuo-ku, Sapporo, Japan
Uni aka sea urchin and more great seafood!


Sapporo Bier Garten
North 7-jo East 9-chome, Higashi-ku, Sapporo, Japan
Local brewer which serves good grilled mutton.


Okushiba Shoten Soup Curry
South 8, West 14, Chuo-ku, Sapporo, Japan
Many of the young locals come for this soup dish.