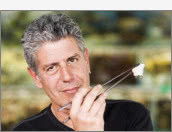 Episodes by Region



AFRICA
no reservations locations
ASIA
no reservations locations
CARIBBEAN
no reservations locations
EUROPE
no reservations locations
MIDDLE EAST
no reservations locations
NORTH AMERICA
no reservations locations
OCEANIA
no reservations locations
SOUTH AMERICA
no reservations locations



Follow Anthony Bourdain's travels around the world - experience the journey. [ season 6 ... episode 8 ]


No Reservations Episode: HARBIN, CHINA
| | |
| --- | --- |
| | It time for another visit to China, this time in the dead of winter. Tony checks out the Harbin area and really experience what the people endure during these cold, cold days and nights. But, in exchange we are treated to some warm, hearty and comfort foods that the people live on such as fresh dumplings, cooked stews & pickled foods that stand the test of time. |
Hotels & Accommodations:

Sofitel Wanda Harbin
No.68 Ganshui Road, Xiangfang District, Hei Long Jiang, Harbin 150090, China

Wonderful stay and service in Harbin.




Recommended Activities & Events:

Sun Mountain Yabuli Ski Resort
Shangzhi, Harbin, Heilongjiang, China, 150631

Catch some slopes in this amazing resort.
Browse our list of Restaurants and other Places to Eat & Drink
USA Bucks Bar
Zhongyang Dajie, Harbin, China
Good food choices and coffees.


Dongfang Jiaozi Wang
39 Zhongyang Ave, Harbin, China
Try the jiaozis or their cold dishes.


Fox Pub
Nangang, Harbin, China
A bar that you can't pass up.


Bai Yi Da Di Guo
18 Hongxiang Rd Nangang, Harbin, Heilongjiang
The coal stoves are interesting.