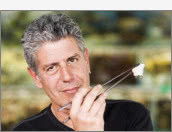 Episodes by Region



AFRICA
no reservations locations
ASIA
no reservations locations
CARIBBEAN
no reservations locations
EUROPE
no reservations locations
MIDDLE EAST
no reservations locations
NORTH AMERICA
no reservations locations
OCEANIA
no reservations locations
SOUTH AMERICA
no reservations locations



Follow Anthony Bourdain's travels around the world - experience the journey. [ season 8 ... episode 13 ]


No Reservations Episode: BURGUNDY
| | |
| --- | --- |
| | One of the best know areas when visiting France, Tony makes his final visit to this European country in his final season of filming. This region is famous in ways that is quite different from it's counterpart areas, and during this show you find out why. Centrally located with four departments, it produces some of the best wines in the world. Try the Beef Bourguignon! |
Hotels & Accommodations:

Hotel Le Maxime
2 Quai de la Marine, 89000 Auxerre, France

Great location to make your daily trips from.




Recommended Activities & Events:

Patrick Picard Butcher Shop
64 Rue Joubert, 89000 Auxerre, France

Stop by early in the day for the best picks.
Browse our list of Restaurants and other Places to Eat & Drink
L'Esperance
22 Grande Rue, 89450 Saint-Pere, France
Good spot to grab a meal, especially lunch.


Maison Paillot
14 Place de l'Hôtel de Ville, 89310 Noyers-sur-Serein
Family run restaurant, excellent choices.


Caves Madeleine
8 Rue du Faubourg Madeleine, 21200 Beaune, France
Local spot to enjoy a freshly prepared meal.


Le Rendez-Vous Restaurant
37 Rue Pont, 89000 Auxerre, France
The place Anthony Bourdain trained as a chef!


Au Petit Calin
4 Grande Rue, 89160 Pacy-sur-Armancon, France
Order the beef fondue, it's a specialty.


Le Relais des Grands Crus
71 Route Nationale, Morey-Saint-Denis
Local truck stop serving up the goodness!