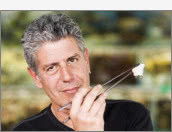 Episodes by Region



AFRICA
no reservations locations
ASIA
no reservations locations
CARIBBEAN
no reservations locations
EUROPE
no reservations locations
MIDDLE EAST
no reservations locations
NORTH AMERICA
no reservations locations
OCEANIA
no reservations locations
SOUTH AMERICA
no reservations locations



Follow Anthony Bourdain's travels around the world - experience the journey. [ season 5 ... episode 13 ]


No Reservations Episode: BUFFALO, BALTIMORE & DETROIT
| | |
| --- | --- |
| | Referred to as the Rush Belt in the USA, Tony visits the cities of Detroit, Baltimore and Buffalo to see how time has change the people and food. In the middle of winter, he takes his trusty side-kick Zamir to make the trek. If you're a fan of the television show The Wire, then you're in for a treat. An entertaining episode that will leave you changed for the better. |
Hotels & Accommodations:

Mansion on Delaware
414 Delaware Ave., Buffalo, NY 14202

This hotel has charm and history, see it.




Recommended Activities & Events:

Cadieux Cafe
4300 Cadieux Rd., Detroit, MI 48224

Participate in the sport of feather bowling.
Browse our list of Restaurants and other Places to Eat & Drink
Ulrich's
674 Ellicott St., Buffalo, NY 14203
Historical tavern, grab the liver dumpling soup.


Schwabl's
789 Center Rd., West Seneca, NY 14224
The beef on weck sandwich is wonderful.


Polonia Polish Restaurant
2934 Yemans St., Hamtramck, MI 48212
Some of the best Authentic Polish dishes.


Al-Ameer Restaurant
12710 W Warren Ave., Dearborn, MI 48126
Charming middle eastern eatery, good.


Mo's Seafood
502 Albemarle St., Baltimore, MD 21202
Fantastic, fresh seafood selections.


Chaps Pit Beef
5801 Pulaski Hwy., Baltimore, MD 21205
Some of the best BBQ in the nation.