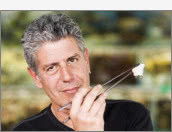 Episodes by Region



AFRICA
no reservations locations
ASIA
no reservations locations
CARIBBEAN
no reservations locations
EUROPE
no reservations locations
MIDDLE EAST
no reservations locations
NORTH AMERICA
no reservations locations
OCEANIA
no reservations locations
SOUTH AMERICA
no reservations locations



Follow Anthony Bourdain's travels around the world - experience the journey. [ season 6 ... episode 21 ]


No Reservations Episode: BEIRUT
| | |
| --- | --- |
| | In this iconic episode, Tony and the crew make their way back to this location as the first time was cut short due to the Lebanon war of 2006. It's a treat for the viewer as we never had a chance to full bathe in the glory of the rich culture and foods. After watching this episode, you'll have a fair chance to see what it's all about including stories from the locals. |
Hotels & Accommodations:

Le Royal Hotel
Leisure Hills Complex, Dbayeh, Beirut 2501-1305, Lebanon

Good location and serves drinks at the bar.




Recommended Activities & Events:

Fern Al Zahraa
Damascus Highway Rd., Baalbek, Lebanon

Great location for butchers and shops.
Browse our list of Restaurants and other Places to Eat & Drink
M. Sahyoun Falafel
Rue De Damas, Beirut
Considered the best Falafel in the region.


Dragonfly Bar
Gouraud St., Gemayze, Beirut
Fun and lively bar, have a drink.


Restaurant Onno
Aghabios St., Bourj Hammoud, Beirut
Delicious Lebanese Armenian dishes.


Le Chef Restaurant
Gouraud St., Gemayze, Beirut
Good choices of meal served fresh.


Chez Maguy
Makaad el Mir Batroun, Lebanon
Hidden gem that serves seafood cuisine.


Tawlet Restaurant el Tayeb
Beirut, sector 79, Naher st 12, Beirut, Lebanon
Wonderful spot to enjoy a good brunch.